Stunning new footage shot in Norway shows humpback whales hunting herring under the Northern Lights.
Norwegian Public Broadcasting (NRK) photographer Harald Albrigsten captured the video while testing equipment, including a camera that makes it possible to shoot under very dark conditions yet still retains image definition.
Regarding his latest project, Albrigsten told NRK that as he was conducting the equipment tests, "I came suddenly upon a bunch of humpback whales that were playing under the Northern Lights. I went back the following day to see if I could get closer. After a few hours I nearly gave up, but then they turned up again."
According to BBC News, the video was taken was filmed off the coast of Kvaløya, near the city of Tromsø. It is fitting that Kvaløya means "Whale Island," honoring the many whales that come to the site to feed, bask, play and more.
The Northern Lights, also known as the Aurora Borealis, represent an astronomical phenomenon that actually occurs in both the northern and southern hemispheres, a Library of Congress fact sheet explains. Solar activity ejects a cloud of gas, called a "coronal mass ejection," that collides with Earth's magnetic field within 2 to 3 days.
Source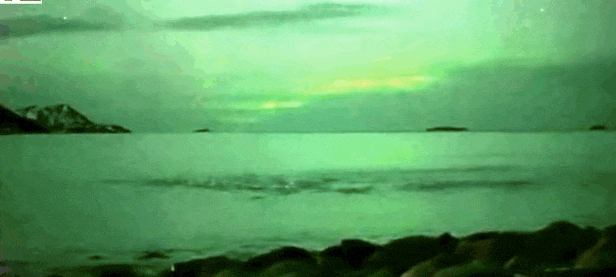 VIDEO