Kolima couldn't run like other dogs, so her only friend had to come to her.
According to owner Felice Caputo, the 1-year-old Anatolian shepherd was born with wobbler syndrome, a spinal condition that gives her a shaky gait and makes it painful to stand. As a result, Kolima spends most of the day crouching, even though, as a puppy, she'd rather "play and rock the world."
Luckily, Kolima's desire for companionship was noticed by Paolo, Caputo's otherwise "mischievous and stubborn" 6-year-old donkey.
"After an initial moment of indifference, Paolo saw Kolima's difficulties and took her under his wing," writes Caputo. "The only time of day Kolima finds the energy to stand up and play is when I take her to Paolo." Since then, Caputo has had to reconsider his role in the growing kinship between the grouchy donkey and disabled pup.
"I thought I adopted a puppy," writes Caputo, "but every day it becomes clearer that she was adopted by my donkey."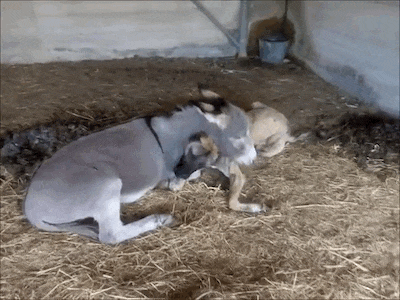 VIDEO

Lui è Kolima.Kolima è un Kangal, un Pastore dell'Anatolia, il cane più imponente che io abbia mai visto, ed è diventato membro della nostra famiglia esattamente un mese fa.Purtroppo Kolima ha una patologia maledetta che si chiama Sindrome di Wobbler, una malattia congenita neurologica per colpa della quale le vertebre del suo collo vanno a comprimere il midollo spinale e i nervi, questo gli comporta "instabilità della colonna vertebrale, con alterazioni anche a livello delle articolazioni, dei dischi intervertebrali e anche dei legamenti".In pratica Kolima si regge in piedi a fatica, cammina in modo traballante, ha difficoltà a rialzarsi da terra e passa la maggior parte della giornata accucciato.Ma Kolima è anche un cucciolo, ha poco più di un anno, e vorrebbe giocare e spaccare il mondo.Ecco, credevo di averlo adottato io, questo cucciolo, ma ogni giorno mi sembra sempre più evidente che lo abbia adottato il mio asino.Paolo è un asino di sei anni, è con me dallo svezzamento.Quando ero piccolo, mio nonno, il Felice Caputo vero, duro e un pò arrogante come le pietre che aveva spaccato per una vita, mi raccontava sempre del suo asino, di come da ragazzo lo accompagnava a lavorare dalla campagna fino ad Avellino centro, di come non gli saliva in groppa ma andava a piedi al suo fianco, al fianco di Paolo, il Paolo vero.Quando mi sono trasferito ad abitare e a vivere la stessa campagna, decisi di voler convivere a mia volta con un asino, e gli misi una "sepponta" indelebile per ricomporre "Felice e Paolo", una coppia che a quanto pare continua a funzionare.Se pensate che un asino maschio, per quanto di taglia piccola, possa avere un caratteraccio, sia dispettoso e testardo, avete ragione.Se pensate che un asino maschio sia una animale poco intelligente, di poche pretese e senza empatia, avete torto marcio.L'unico momento della giornata in cui Kolima trova le energie per alzarsi e giocare è quando lo porto da Paolo.Sono uno spettacolo: Paolo, il dispettoso e testardo Paolo, dopo un primo momento di indifferenza ha preso il cagnone sotto la sua ala protettiva, si è reso conto delle difficoltà motorie di Kolima e, per farlo giocare e dargli calore, fa cose incredibili.Si inginocchia per evitare che si sforzi, lo mordicchia, si stende vicino a lui, lo fa mettere nel suo fieno.Paolo ha adottato Kolima.(con sommo dispiacere della capra che non si fida troppo)Lungi da me estrapolare conclusioni mielose da questo fatto, solo, la prossima volta che pensate di poter insegnare a qualcuno come amare o spaccate il cazzo su come deve essere composta una famiglia, venite da me, vi metto un paio di giorni nelle stalle con Paolo e Kolima, così imparate un fatto.
Posted by Felice Caputo on Saturday, February 6, 2016