Black wolf howls to the prairie thunderstorm and rains. Zephyr (meaning "light or west wind") is a beautiful black male with a prominent nose and a feisty personality.
Ancient cultures paid great attention to the events in the Sky Nation and put much faith and trust in Thunder Medicine.
In all traditions it was the Thunder beings who were the Creators. They were the ones that governed Nature and all life by sustaining balance and destroying imbalance which is the cause of suffering.
The storms, that are the gift of the thunder beings, wash away the negative energy and tensions of the world and the greater the world's need, the stronger the storms must be to clear away all the obstructions to peace and harmony. A rainbow always represented a clear path to renewed life on earth.
The Cherokee gave human attributes to the Thunder God and called him "Asgaya Gigaei" which meant "Red Man". He is of a red color as it represents lightning. The Cherokee, being a mountain people, saw the heavy thunder clouds gather at the lofty peaks and the red lightning flash below in the valleys. To these ancient people the flashes seemed like the moving limbs of a giant half hidden human-like deity. Thus, the Red Man.
In Norse mythology, Thor is a hammer-wielding god associated with thunder, lightning, storms, oak trees, strength, the protection of mankind, and also hallowing and fertility.
The Norse believed that during a thunderstorm, Thor rode through the heavens on his chariot pulled by the goats Tanngrisni ("gap-tooth") and Tanngnost ("tooth grinder"). Lightning flashed whenever he threw his hammer Mjollnir.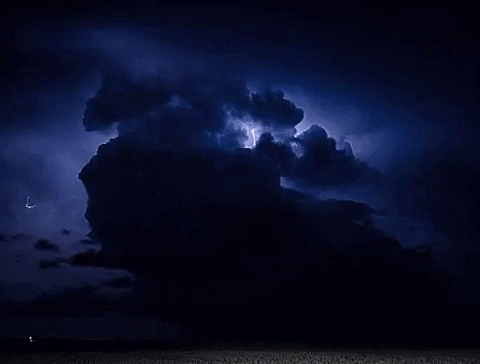 VIDEO