This footage shows the moment a drowning dog was rescued from a canal by a hero who hooked the struggling canine back to safety with his legs.
In the clip the quick-thinking man dangles from a safety barrier with one hand to retrieve the dog.
The video, which was uploaded to Malaysian Facebook page Siakap Keli, shows him hook his legs around the dog in a bid to haul it back to safety.
He in turn is pulled to safety by a bystander, who pulls the have-a-go hero to safety with the dog safely in his grip.
After his risky effort to save the dog, the long-haired man's bravery was praised by viewers on Facebook.
Stephanie Bueno called him a 'wonderful young man', adding: 'Even though there is many bad things in our world there are lots of good things too.'
Another called Pradeep Pandey said the clip 'is the sweetest thing that I saw today' and John Bates wrote 'it is our job as humans to be friends and protectors of animals! Thank you to all the people involved with saving that grateful animal'.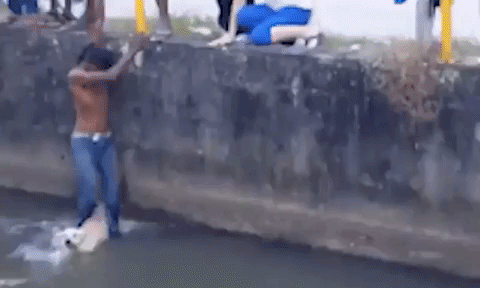 VIDEO