If it weren't for her bushy tail and distinctly fox-colored fur, Vixey could pass for a dog.
Footage of Vixey, a fox rescued from the fur trade in the Czech Republic, shows that sometimes foxes are closer to their dog cousins than we may think.
In a matter of seconds, she runs in the room, climbs on top of the bunk bed and ducks out, all without pausing for an instant. Once she gets settled in bed, she plays hide-and-go-seek … by herself.Of course, all that playing can make a fox tired. But before long, she's back at it again, entertaining herself with other dog-like activities such as solo-fetch ...
… plus some very fox-like behavior as well such as nose-diving into the ground.
As a fox living with humans, Vixey's caught between two worlds — part tame, part wild. While nature is certainly the best place for a wild animal, Vixey's never known what that's like. She was born into a factory that breeds foxes for the fashion industry, from which she was eventually rescued.
Source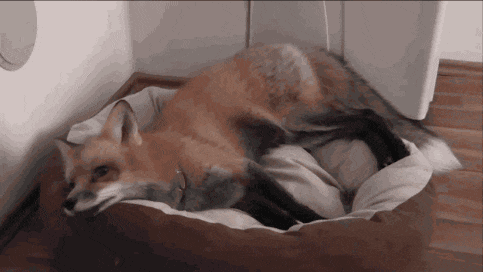 VIDEO
Happy Rescued Fox Loves to Play!
Meet Vixey the fox! Vixey is a sweet Czech fox that was rescued from a fur farm. She looks so happy now! <3What an adorable ball of energy! :DSee more of Vixey at her personal website Vixey.cz.
Posted by HypeDojo on Monday, March 28, 2016