Bella the baby goat is the newest arrival at Animal Place's Rescue Ranch in California. Her birth was a touching one, given that her mother, Butterscotch, almost didn't give birth in the safety of the ranch.
"When Butterscotch came to us, she was two and a half months pregnant," said Galeazzi. "We did not know she was pregnant because she's really a baby herself. She's only about a year old."
Butterscotch is a former dairy goat who presumably managed to escape from her dairy farm, according to the ranch. She was found roaming on her own by Napa County Animal Services and immediately taken to a nearby shelter. Not only was Butterscotch emaciated when she was found, but her horns were cut off.
"[Dairy animals] have to stay impregnated to produce milk and, when they do give birth to their babies, their babies are taken away," Galeazzi said. "It's really wonderful that this is a baby that gets to stay with her mother. They have strong, emotional ties."
Now Bella, who's just under a month old, gets to enjoy everything about being a goat under her mom's loving watch."She's with her mother 24/7," Galeazzi said. "She looks to her mother for constant guidance and reassurance."
Source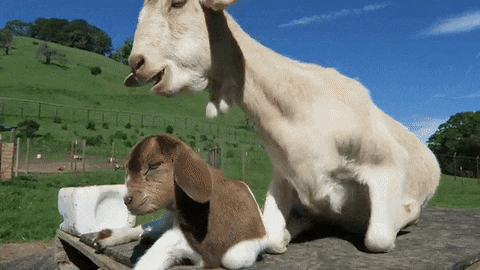 VIDEO